Cnidium Monnieri Extract is mainly used for external use, mainly in surgery, gynecology and dermatology. In recent years, there are many types of research on Osthole, the main effective component of Cnidium fruit. It has a good therapeutic effect in the treatment of cardiovascular and cerebrovascular systems, nervous systems, endocrine systems, immune systems and other diseases. Pharmacological studies have shown that Osthole has anti-arrhythmia, antithrombotic, anti-osteoporosis, anti-inflammatory, antioxidant and hormone-like effects. There are main specifications of KS Cnidium Monnieri Extract Osthole 10%, 35%, 60%, 90% and high content of 98%, appearance with light brown powder to off-white fine powder.
In order to provide better service to our customers, We have found warehouses in LA and NYC. In these years, KS has got ISO9001, ISO22000, HACCP, and KOSHER, If you are looking for this product, pls feel free to contact us!
1. Sterilization and antipruritic effects. The Cnidium fruit extract is a commonly used medicine to assist women with trichomonas vaginitis. Directly lavage the vagina with water and osthole, use 1 to 2 times a day, could quickly relieve the condition.
2. Warming kidney and aphrodisiac for men's sexual health. Impotence is a high incidence disease in andrology. It is mostly caused by renal insufficiency or kidney deficiency.
In addition, Cnidium Monnieri is also widely used in the Biopesticides field, osthole with low content can be added to the insecticide products and food storage protectants. 1% osthole for water emulsion has special effects on melon, strawberry and flower powdery mildew (the prevention efficiency is about 95%), and also has a combined effect on vegetable downy mildew and aphids.
COA of 10% Osthole powder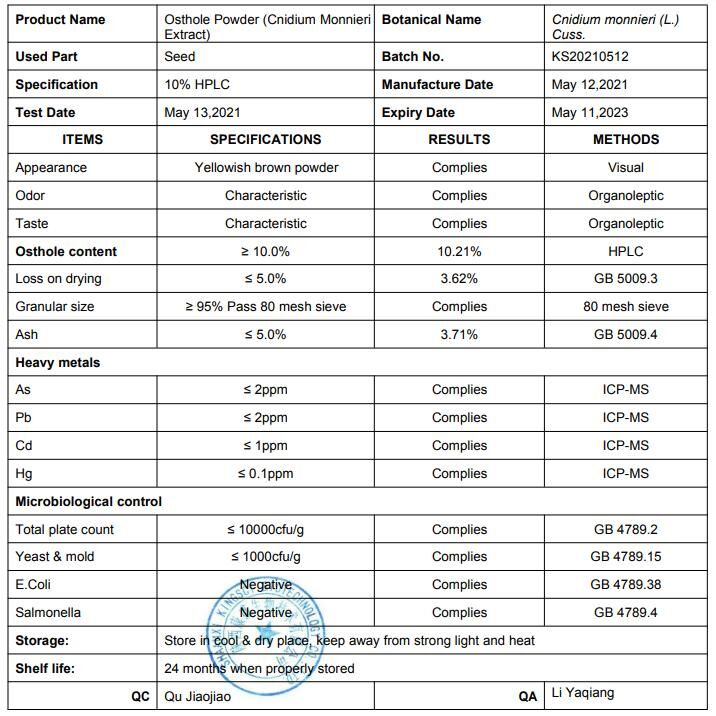 Delivery Information