Curcumin is extracted from turmeric roots. There are different 10%- 95% Curcumin, including 10% Curcumin good water-soluble, 95% Curcumin powder. It is orange-yellow crystalline powder, slightly bitter and insoluble in water. Turmeric root extract is a great food coloring agent, flavoring agent, and preservative, and also a good ingredient for dietary supplements, pharmaceuticals, and cosmetics. Medical research shows that curcumin has the functions of reducing blood lipid, anti-tumor, anti-inflammatory, and anti-oxidation. Especially Curcumin 95% Powder with 98% piperine is a popular formula in the world market. Curcumin is currently one of the world's largest-selling natural food pigments and is a food additive approved by the WHO and FDA.
Curcumin Benefits
1. Anti-oxidant
The antioxidant effect of curcumin is mainly reflected in scavenging reactive oxygen radicals, inhibiting lipid peroxidation, increasing superoxide dismutase (SOD), catalase (CAT), glutathione peroxidase (GSH- Px), and other activities, and has a significant inhibitory effect on lecithin lipid peroxidation and OH-induced DNA oxidative damage.
2. Anti-inflammatory
Curcumin plays a huge role in the process of reducing pro-inflammatory factors and increasing the release of anti-inflammatory factors to achieve the effect of controlling inflammation in chronic diseases, such as rheumatoid arthritis, inflammatory bowel disease, type I diabetes, myocarditis, systemic erythema Symptoms of diseases such as lupus and polycystic ovary syndrome.
3. Improves memory
Curcumin significantly reduced the synthesis of proteins in areas of the human brain that control memory and emotional functions. A new U.S. study published in the American Journal of Geriatric Psychiatry suggests that turmeric may improve people's memory by nearly 30 percent and ease depression. In addition, Curcumin has anti-β-amyloid formation, aggregation, and clearance-promoting effects, thereby preventing the occurrence of Alzheimer's disease.
4. Prevent cancer.
Turmeric root extract curcumin can inhibit the development of cancer cells from a variety of cellular and molecular levels. Studies have pointed out that it can reduce the proliferation and spread of cancer tumors, and can further lead to cancer cell apoptosis.
COA of Turmeric root extract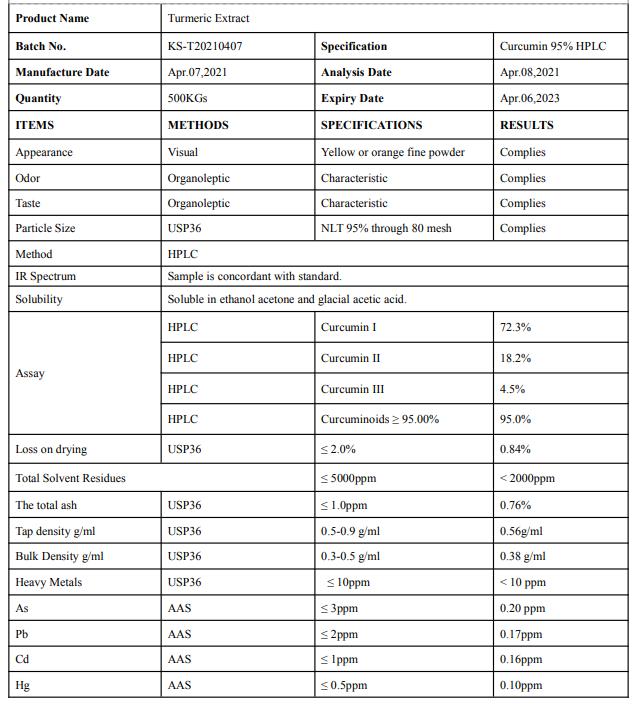 Delivery Information